ISO Maintenance Management Software
ISO standard-based QMS Software QISS Offers Maintenance Management Software System for your company.
Flexible, easy-to-implement, and easy-to-use solution for the maintenance management and business of any type of assets.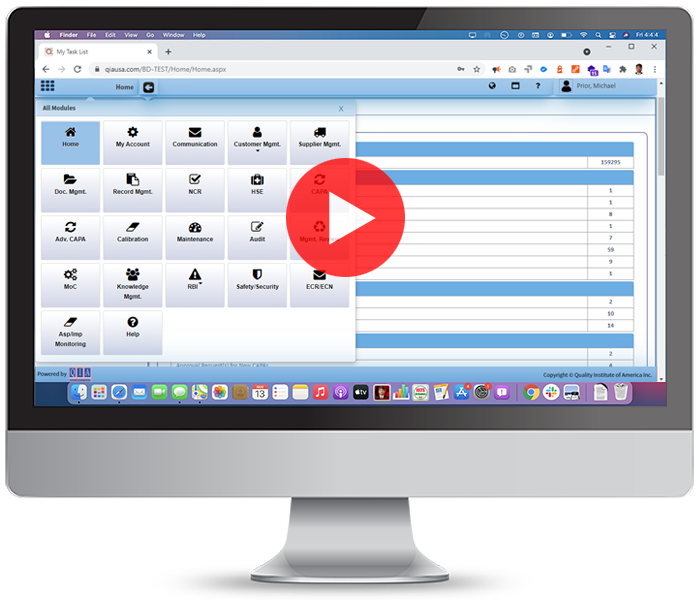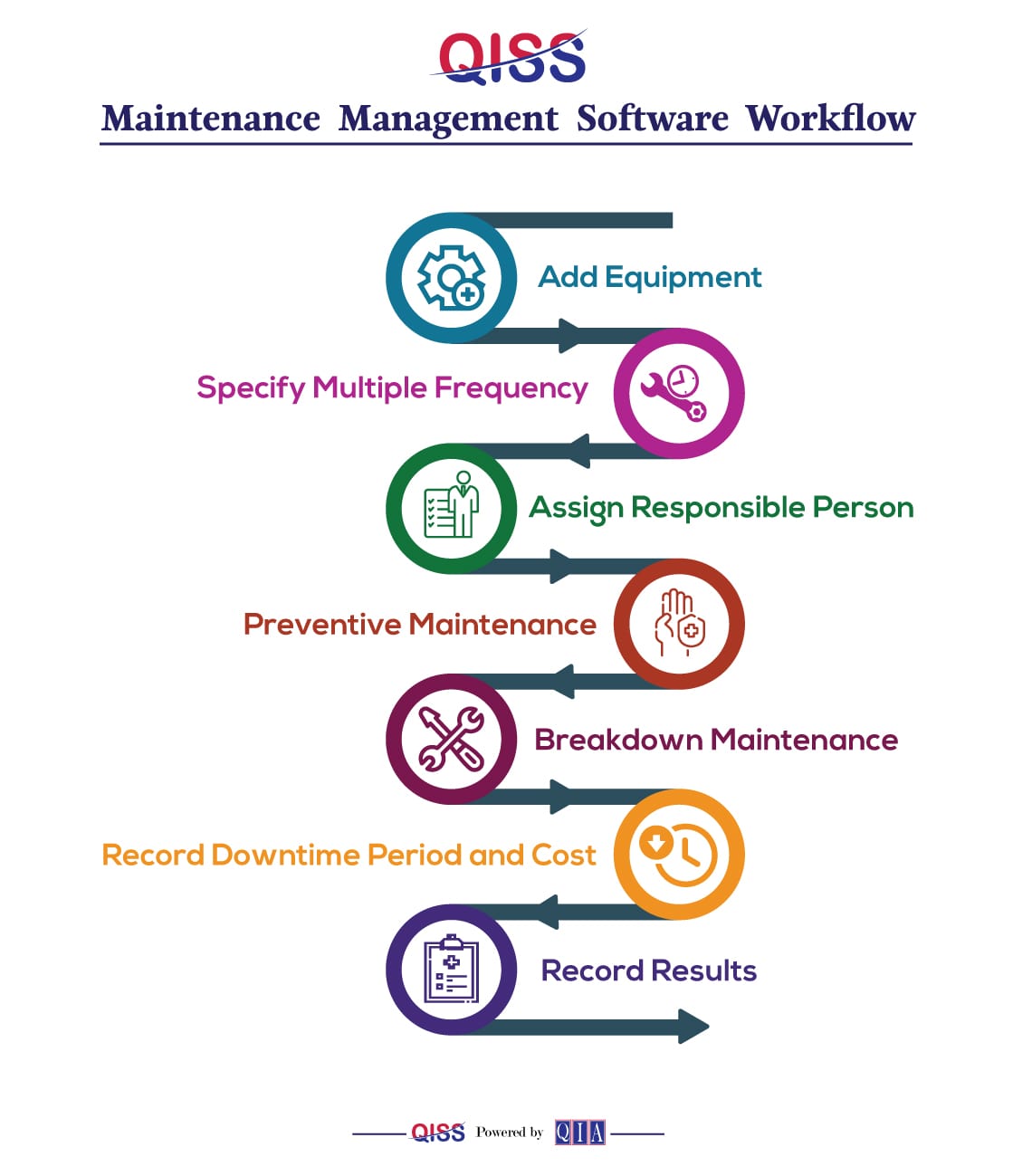 Figure: QISS Maintenance Management Software Workflow
---
QISS Maintenance Management Software
---
This writing will discuss a Maintenance Software System of an ISO (International Organization for Standardization) standard-based quality management software QISS.
Infrastructure – Maintenance
ISO 9001:2015, Section 7.1.3 Infrastructure states the necessary requirements for an organization to meet to be compliant and adequate for infrastructure purposes.
Under ISO, an organization must determine, provide, and maintain the infrastructure necessary for the operation of its processes and to achieve conformity of products and services. In short, equipment used in the provision of products and services must be reliably capable of doing the job.
ISO 9001, clause 7.1.3, defines infrastructure to include the following:
a) buildings and associated utilities
b) equipment, including hardware and software
c) transportation resources
d) information and communication technology
During an audit, auditors seek demonstrable and objective equipment the organization determines that needs to be maintained. Important data related to maintenance is the type of equipment, its identification, and the routine maintenance on the equipment by describing what is done, by whom and when the next scheduled maintenance is to occur.
Additionally, any preventive maintenance issues or scheduled PM activities need to be properly documented and recorded.
How does QISS software help an organization to ensure that all equipment is maintained timely and records kept of the equipment and scheduling of maintenance activities?
QISS provides an organization the tools to ensure that the processes required to attain compliance with QMS Standards are managed and planned, executed, and controlled according to requirements. This is true for all modules in QISS.
QISS maintenance module provides tools to ensure that all maintenance activities are documented in one place and allows the user to set up and schedule maintenance activities within the module. Notices of due dates are sent to the proper parties via the in-module email system.
QISS's maintenance module provides the tools to ensure that all production equipment is as accurate as necessary at the time of use. Proper maintenance protocols are programmed into the application, and it serves as a quality assurance mechanism for improving the quality monitoring process. It saves time and money by automating the scheduling and planning of maintenance.
In addition to being a great business investment, a computerized maintenance system is a valuable tool for compliance in highly regulated industries and small companies that fall under the same ISO standard in the monitoring and measuring of resources under section 7.1.3 of ISO 9001:2015.
Here are some major benefits of the QISS Maintenance module:
Activities by authorization: Like all other modules, authorized users can only perform the activity in the maintenance module. The maintenance module manager or one of his/her higher authorities is responsible for granting permission for the activities to appropriate users.
Custom fields: In addition to standard fields provided by QISS, such as make, model, and serial number, authorized users can add custom fields to equipment and maintenance inputs. Custom fields also can be made searchable in advanced search features.
Advanced search: Advanced search feature for the maintenance module in QISS provides users with the ability to retrieve equipment and maintenance records precisely by allowing multiple search conditions specified simultaneously.
Email configuration: As in all other modules, authorized users can configure default email settings provided by QISS to suit their organization's needs. QISS sends assignments, FYI, and past-due emails about maintenance activities. For assignment emails, email subject and message can be configured. For FYI, emails, l subject, message, and recipients can be configured. For past due emails, subject, message, initial delay, and frequency of emails can be configured.
Ability to email maintenance records to others: QISS users can email maintenance records of equipment to others. All attachments related to maintenance activities would be automatically included in the email.
Maintenance options: Like options in other modules, maintenance options allow customizing default functionalities in the maintenance module. For example, by default, scheduled dates for maintenance would be fixed for all equipment. However, it can be changed in options to determine the next scheduled dates for the upcoming maintenance from previous maintenance dates and maintenance frequencies.
Scheduled maintenance: QISS allows the equipment to have multiple maintenance frequencies for scheduled maintenance.
Responsible person for maintenance of each piece of equipment: When maintenance frequencies are set, a responsible person needs to be assigned for that equipment. The responsible person is required to enter the maintenance results of that equipment into QISS.
Breakdown maintenance: In addition to scheduled maintenance, the equipment can have breakdown maintenance. Breakdown maintenance results for equipment can be entered into QISS by the responsible person anytime.
Email notifications: QISS sends emails to the responsible person when equipment is ready for scheduled maintenance. The responsible person enters the details about maintenance into QISS.
Edit capabilities: Authorized users can edit or delete existing scheduled and breakdown maintenance records for equipment. Maintenance records are edited or deleted by selecting the equipment and the date of maintenance.
Maintenance schedule: The maintenance schedule for all equipment can be viewed by authorized users. It includes information such as the responsible person and last and next maintenance dates for each maintenance frequency.
Equipment downtime and maintenance cost: QISS provides an option to view total equipment downtime and maintenance cost due to maintenance activities associated with particular equipment during the period specified by a user.
Features of QISS Maintenance System
Features of the QISS Maintenance Module
Perform scheduled maintenance and breakdown maintenance
Add custom fields
Filter out maintenance records according to specified search criteria
See upcoming maintenance schedule for all equipment
Provide Total Downtime and Cost during the maintenance period
Maintenance schedules with auto-reminders based on equipment frequencies
Record results of equipment
Perform breakdown maintenance
Get complete visibility into all your Maintenance activities
Track and access all Maintenance activity through this centralized web-based database so you can trend information and identify areas of increased risk.
Ensure compliance with common management standards.
Satisfy and exceed audit, nonconformance, and corrective and preventive action requirements of many common standards such as ISO 9001, ISO 14001, and OHSAS 18001.
Prevent the recurrence or occurrence of discrepancies, failures, and deviations through dashboards that provide a real-time, at-a-glance assessment of the status of Maintenance activities within the system
Cultivate a companywide culture of continuous improvement
The history of the QISS Maintenance System
In the "olden" days, when something broke, you fixed it or threw it away (after stripping off anything of value or use). Organizations were no different, but they had several "somethings," To wait for breakdowns to fix something wrong could be very disruptive – not to mention if more than one "thing" broke down at a time.
This type of thinking led to the development of "preventive" maintenance – an idea that you prevent something from breaking or "going down" by routinely maintaining its operation through timely maintenance tasks, like changing oil or lubricants, etc.
As with other types of documentation practices, manually keeping records of equipment and its required maintenance schedules can be an onerous and time-consuming effort. With the introduction of software technology, this time and effort are more efficiently spent by allowing software to track schedules and document results in a safe and protected place and have information available at the touch of a keystroke.
The QISS Maintenance module was developed so organizations could document and track the maintenance of their machinery and measuring instruments in a controlled and managed to set.
The module was designed to document the scheduling of routine and preventative maintenance on an organization's machines, tools, and measuring instruments. It shares information related to these tasks with the calibration module, and this eases the redundancy factor of double-entry of data. It relieves the user from having multiple manual entries on each piece of equipment and keeps track of the important dates for tasks to be performed.
As discussed herein, the QISS maintenance module allows an organization's users to record maintenance information and scheduled maintenance and preventative maintenance dates for all equipment in the user's inventory and maintains all record-keeping data required by both the ISO standard and the user's internal requirements. It also allows effective retrieval of maintenance data for view and analysis purposes.